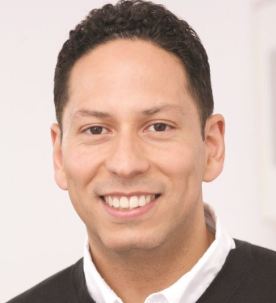 Vincent Guilamo-Ramos, PhD, MPH, LCSW, ANP-BC, AAHIVS
CDUHR - Director, Pilot Projects and Mentoring Core
New York University - Associate Vice Provost of Mentoring and Outreach Programs
New York University - Director, Center for Latino Adolescent and Family Health and Professor, Silver School of Social Work
Education
PhD, Social Welfare, State University of New York at Albany
MPH, Global Health Leadership, New York University
MS, Non-Profit Management and Public Policy, New York University
MSW, Social Work, New York University
AAS, Professional Nursing, College of Health Sciences: Nursing Program Swedish Institute
BS, Human Services, The College for Human Services
Research Interests
Adolescents, Family-based interventions, Latinos, HIV/AIDS, Teen pregnancy, Sexually transmitted diseases
BIO
Vincent Guilamo-Ramos is a Professor of Social Work and the Global Institute of Public Health and the Founder and Co-Director of the Center for Latino Adolescent and Family Health at New York University Silver School of Social Work (www.clafh.org). Dr. Guilamo-Ramos is a leading expert on the role of families in promoting adolescent health, with a focus on preventing HIV/AIDS, sexually transmitted infections, and unintended pregnancies among Latino and African American youth. His work intersects with the fields of social work, public health, and nursing. He is among the core developers of an evidence-based teen pregnancy prevention intervention,
Families Talking Together (FTT)
, which was recognized by the U.S. Department of Health and Human Services as meeting rigorous review criteria for strong evidence of effectiveness among thousands of programs that were evaluated.  Dr. Guilamo-Ramos' most recent work addresses health disparities among adolescent males, and focuses on the unique role of fathers in shaping adolescent males' sexual health outcomes. Dr. Guilamo-Ramos' research has been consistently supported by federal funding mechanisms including NIH and CDC. He has published over 55 scholarly articles in leading scientific journals such as
JAMA Pediatrics, American Journal of Public Health,
and
AIDS and Behavior
. He also has an edited volume entitled "Parental Monitoring of Adolescents," published by the Columbia University Press.
Publications
Recent

Notable
Guilamo-Ramos V
, Bouris A, Lee J, McCarthy K, Michael SL, Pitt-Barnes S, Dittus P (2012).
Paternal influences on adolescent sexual risk behaviors: A structured literature review
Pediatrics
, 130 (5), e1313-e1325. doi:
10.1542/peds.2011-2066
.
Guilamo-Ramos V
, Bouris A, Jaccard J, Gonzalez B, McCoy W, Aranda D (2011).
A parent-based intervention to reduce sexual risk behavior in early adolescence: Building alliances between physicians, social workers, and parents
Journal of Adolescent Health
, 48 (2), 159-163. doi:
10.1016/j.jadohealth.2010.06.007
. PMCID: PMC3118646.
Guilamo-Ramos V
, Jaccard J, Dittus P, Gonzalez B, Bouris A, Banspach S (2010).
The Linking Lives health education program: A randomized clinical trial of a parent-based tobacco use prevention program for African American and Latino youths
American Journal of Public Health
, 100 (9), 1641-1647. doi:
10.2105/AJPH.2009.171637
. PMCID: PMC2920962.
Dr. Guilamo-Ramos' MyBibliography Profile