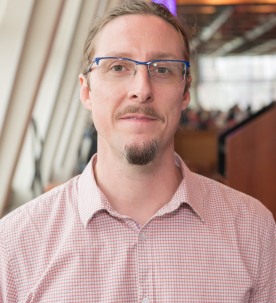 Luther C. Elliott, PhD
NYU School of Global Public Health - Associate Research Scientist
Education
Post-Doctoral Fellowship, Substance Abuse, Behavioral Science Training Program, NDRI, Inc.
PhD, Anthropology, New York University
MA, Anthropology, New York University
BA, English/French, University of Connecticut, Storrs
Research Interests
Opioid dependence and overdose, Substance use careers, Interactive media, Non-traditional treatment paradigms, Behavioral "addictions", Ethnographic methods, Psychedelics
BIO
Luther Elliott is a cultural and medical anthropologist who focuses on pathways to substance misuse and behavioral addictions. Dr. Elliott's interests in vulnerable subcultures and populations led him to the Institute for Special Populations Research (ISPR) at NDRI following his PhD work (New York University, 2006) with emergent subcultures of psychedelic drug use. Since then, he has collaborated with senior researchers, Bruce Johnson, Eloise Dunlap, and Andrew Golub on studies of marijuana use 
(R01DA013690)
, Hurricane Katrina's evacuees 
(R01DA021783)
, and veterans' health 
(R01AA020178)
. Dr. Elliott recently served as principal investigator on a 3-year study of developmental relationships between video game and substance use 
(R01DA027761)
 and is currently serving as co-investigator on a study of opioid treatment program disruption in the wake of Hurricane Sandy (6HITEP140014-01-03) and Co-Investigator and Project Director on a prospective study of military veterans' overdose risks and prevention efforts
(R01DA036754)
.